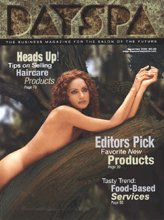 EDITORS CHOICE: Our editors test drive the newest crop of skincare products.
By Lisa Randazzo
Our mission was to look at products the way your clients do when they get home. What kind of immediate effect does the product impart? Is it easy to use? How does it fit into the daily skincare routine of a busy working woman? Is the packaging efficient? Does it smell nice? We chose 35 products that have been introduced within the past year as our favorites, representing approximately 15% of the scores of entries we received.

Simply Porceline Balancing Hydra-Mist Toner *( the ONLY Toner chosen for this article) Simply put, when it comes to skin care, balance is beautiful, and this toner gets you there with an effortless spritz between cleansing and, well, moisturizing almost feels like an option after feeding your face with this gentle mist of calming, soothing and hydrating vitamins and botanicals. Not only is it a perfect preparation for wherever your skincare routine takes you, but it also makes a handy, midday pick-me-up to help carry your skin through the parched air of airplanes, desert climes and your average late-summer, dog-day afternoon.